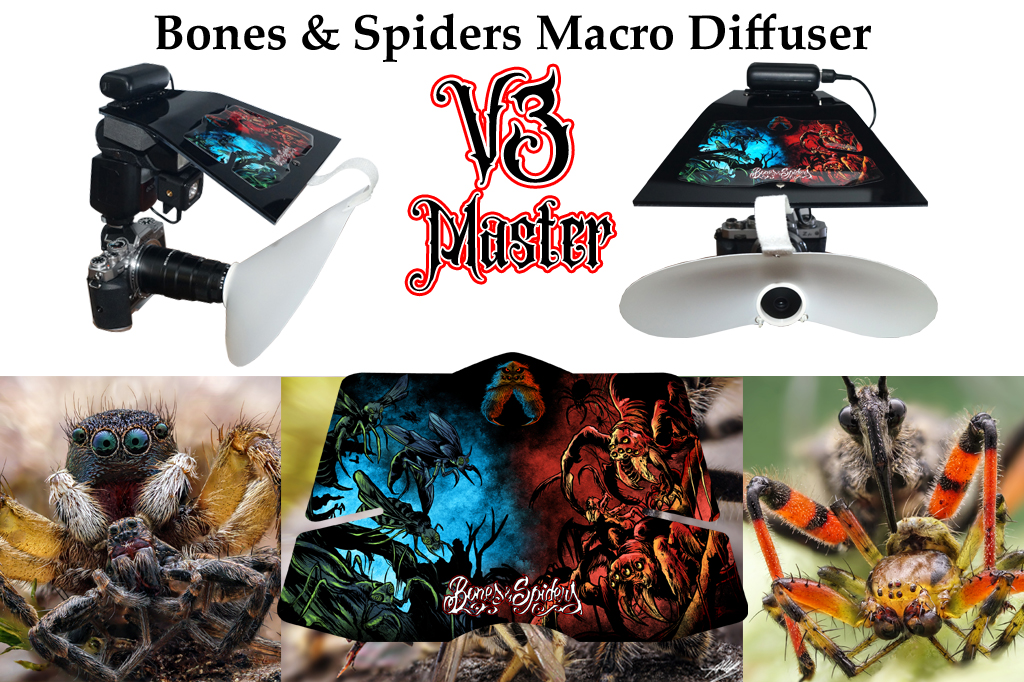 The Bones & Spiders Macro Diffuser
V3 "Master"


A masterpiece built for macro masters!

This is the "deluxe" edition of the macro diffuser. The "Master" variant contains the following features and differences to the "Pro" version:

– Large Artwork 3D Emblem (depicts dramatically depicted battle between spiders and insects)
– Large and very stable storage box for the reflector
– Anti-slip cover on the underside of the reflector made of leather
– the accessory set "focus help" is included

A detailed description of the macro diffuser can be found here: https://alexandermett-photography.de/bones-spiders-macro-diffuser-v3

This is what the macro diffuser looks like (shown here mounted on the Nikon Z FC and the Laowa 25mm 2.5-5:1 Ultra Macro lens with the Godox V860III flash):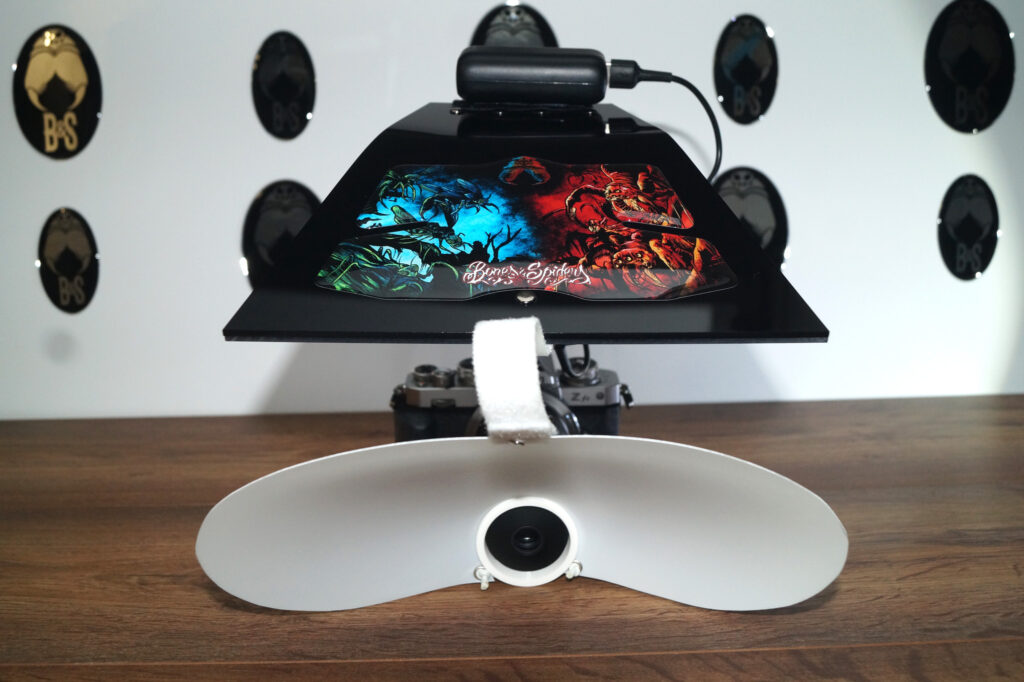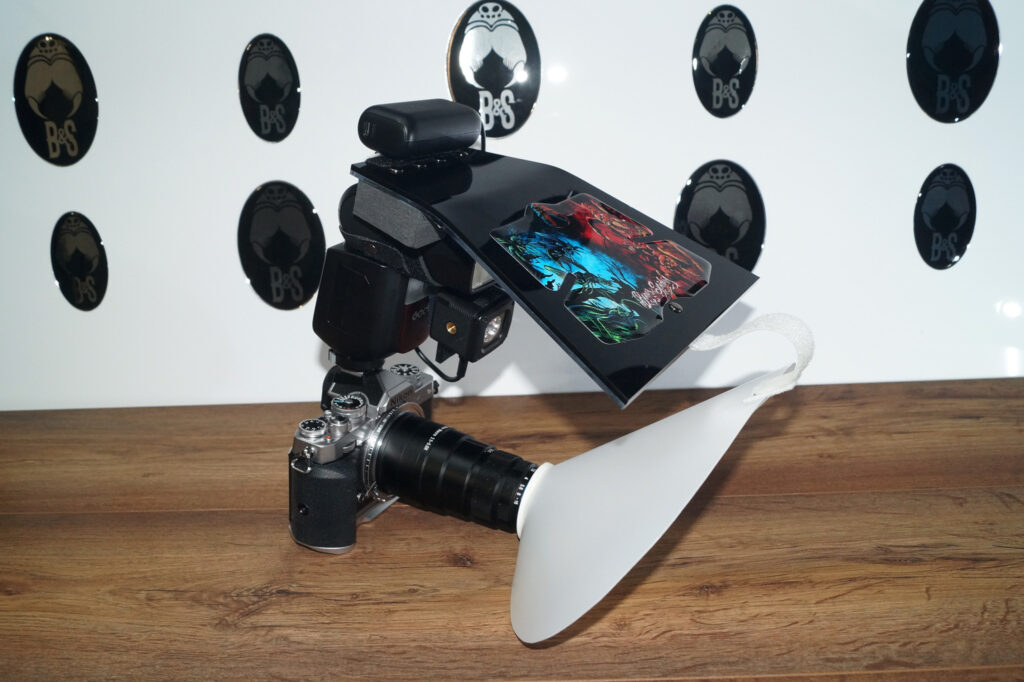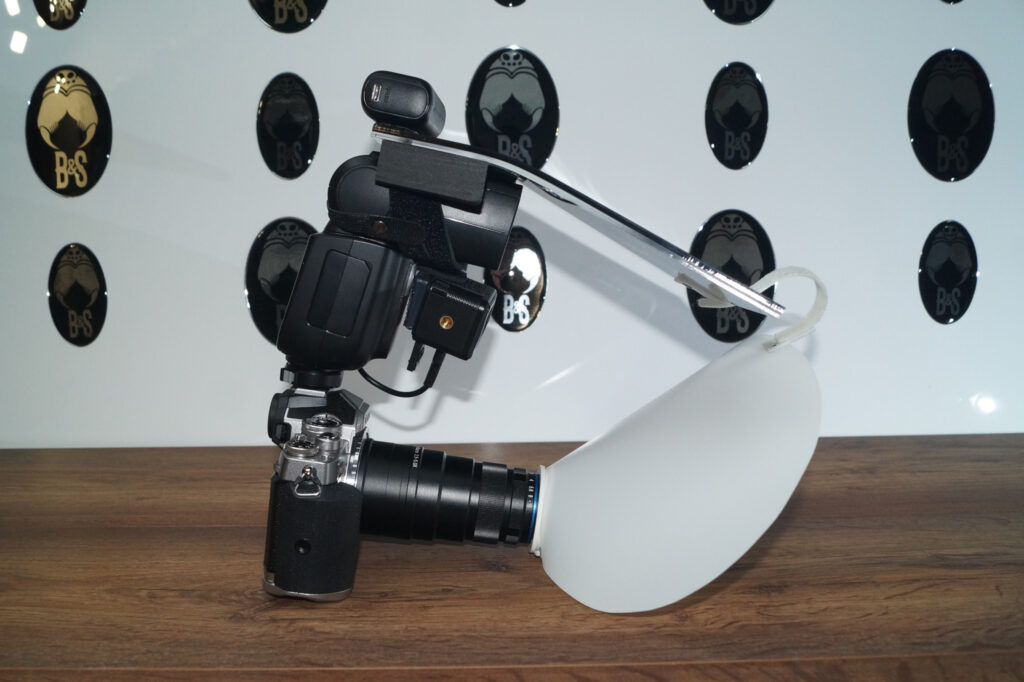 More product images will follow!
Scope of delivery
– reflector with high-quality storage box
– diffuser shield
– focus help accessory set
– 1 adapter ring
Compatibility
Thanks to the elastic band with Velcro, the reflector fits on many common flashlights such as the Yongnuo 560 Speedlite or the Godox V860III. However, the reflector does not fit on small clip-on flashes such as the Metz M360. The diffuser set is also not compatible with ring flashes. The diffuser fits the desired lens using an adapter ring, e.g. the Laowa 60mm 2:1 f2.8 Ultra Macro, Sigma 105mm f.28 Macro HSM, Laowa 25mm 2.5-5:1 f2.8 Ultra Macro.
Please specify the lens or filter thread when ordering. You can also ask me beforehand if you are unsure whether your lens or flash are compatible with the diffuser set.
The V3 diffuser has a special guide on the reflector for the flash. When ordering, please let me know the width of the flash so that I can mount the reflector accordingly.
Price: 279 euros (incl. VAT)
The prices include insured shipping within Germany. For orders from abroad, please ask me about the shipping costs.
Where can you buy the Bones & Spiders macro diffuser "V3 Master"?
The macro diffuser set is available exclusively from me and not in the "Bones & Spiders" online shop.
The diffuser can be ordered by email to: info@alexandermett-photography.de
Please use "Order macro diffuser" as subject.
A notice:
The diffuser is built or assembled in small series by me. Minor signs of wear and deviations in the material properties are production-related. Changes in material and design are possible at any time!
You might also be interested in:
The special adapter "Zombie Eyes Ring"